today

perm_identity

Hair Tools

label News
remove_red_eye

1296 views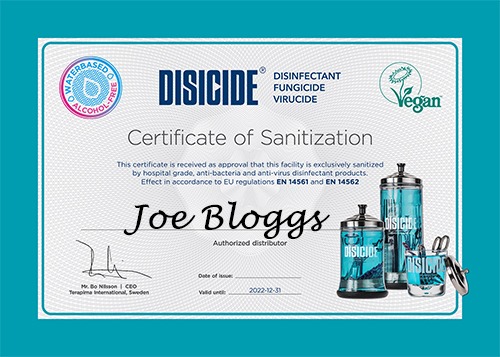 The Disicide® Certification of Sanitization is for any salons, barbershops, tattoo studios, spas or mobile hairdressers and beauty therapists that have purchased products from the Disicide® range and wish to display the Certification in their workplace, on their website and social media to assure their clients that the upmost care is being taken when it comes to hygiene.
Hospital grade, vegan and environmentally friendly, Disicide® is effective against bacteria and virus, including Coronavirus (test EN 14476).
To obtain the Certificate email us at disicide@hairtools.co.uk with an image of your receipt showing the purchase of Disicide products and we will send you a downloadable certificate.
COMING SOON - In the coming months we will be launching a short Disicide® course complete with information on hygiene procedures and practices, as well as information on how to use Disicide in your workplace to ensure the highest standards are met.  This will include a test at the end in which you can obtain an additional certification to display in your workplace and share on social media for all your clients to see.
Explore the Disicide range below.