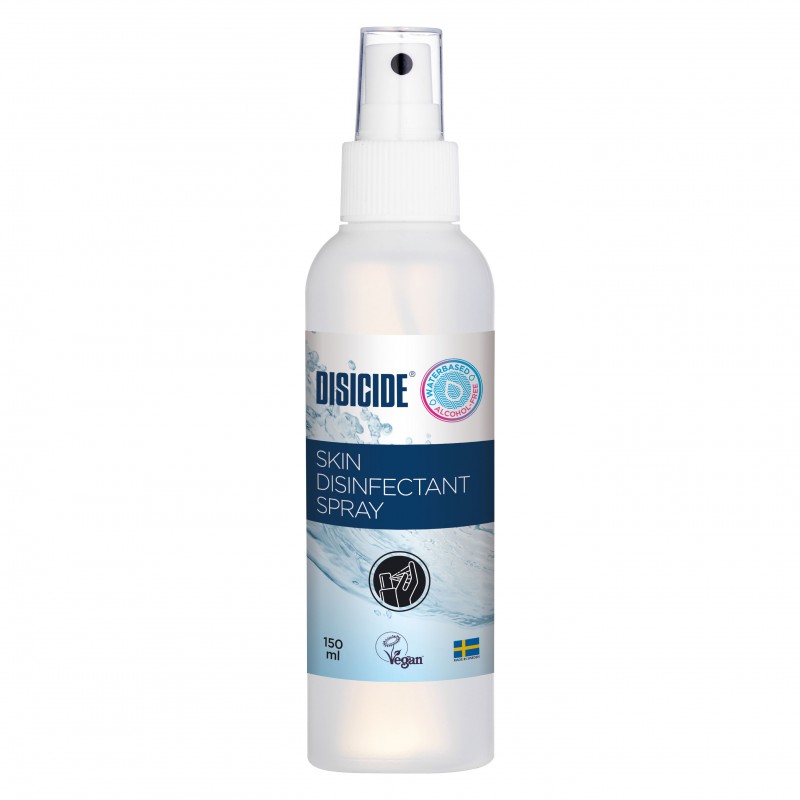  
Disicide Skin Disinfectant Spray 150ml
Vegan, environmentally friendly skin antiseptic spray that cleans and disinfects the skin without causing damage.
A skin antiseptic spray that is active against:
*Vegetative forms of gram-negative and gram-positive bacteria (Treponema spp., Neisseia gonorrhhoeae, Tricyomonas spp., Chlamidia spp.),
*Pathogens of nosocomial infections and tuberculosis,
*Infections of viral etiology (hepatitis viruses, HIV, herpes viruses, influenza and other respiratory viral infections.),
*Yeast-like fungi of the genus Candida,
*Dermatophytes and dermatophyte viruses,
*Yeast viruses and lipophilic viruses.
*It acts on bacterial spores only at elevated temperatures.
Proven effective against bacteria and virus in accordance to EU regulations EN1500, EN13727 and EN13624.
Use for:
*Antiseptic treatment and disinfection of the skin of the hands, body and feet before the start of salon procedures and after the completion.
*Prevention of fungal and staphylococcal infections, etc.
*Processing of abrasions, scratches, cuts.
Application: Apply to the skin immediately before the procedure.  Do not rinse.
Available in 150ml and 300ml bottles.
Attention: In case of accidental contact with eyes it is necessary to rinse quickly and thoroughly with water.
Storage conditions: Store in a dark, cool place inaccessible to children, protected from direct contact with sunlight at a temperature of 5 °c to 25 °c.