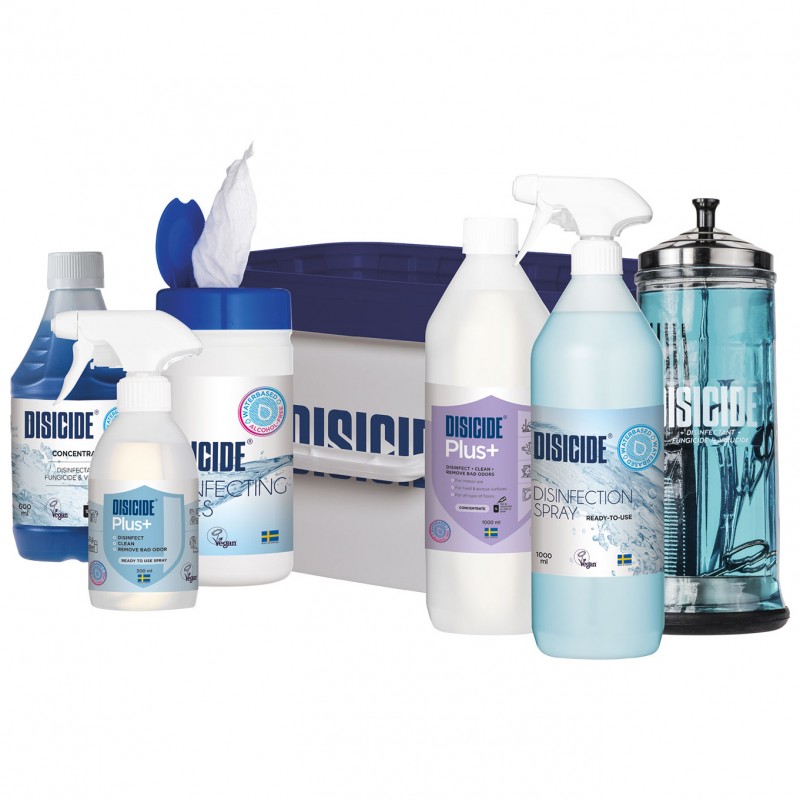  
Disicide Starter Kit White
Hospital grade disinfectant starter kit for hair and beauty salons, barbershops, tattoo studios and spas.
Hospital grade disinfection for Barber, Hair & Beauty Salons, Tattoo studios and Spas.
The Kit Contains:
Large Glass Jar, 1100ml
Disicide Concentrate, 600ml
Disicide Spray, 1000ml
Disicide Wipes, 100pcs
Disicide Plus+ Concentrate, 1000ml
Disicide Plus+ Spray, 300ml
Vegan and environmentally friendly biocidal product that is safe for the user.  Proven effective against bacterias and virus.
Disinfectant, fungicide and virucide.
Water based solvent free product with a mild odour that is easy to use and cost effective.
In January 2020 Disicide® were awarded with the Vegan Certificate and Green Saloon.
This means that all Disicide® products are free of animal ingredients and are never tested on animals.
In addition, the Green Saloon award confirms that all Disicide® products contain no substances that are problematic to humans or the environment.