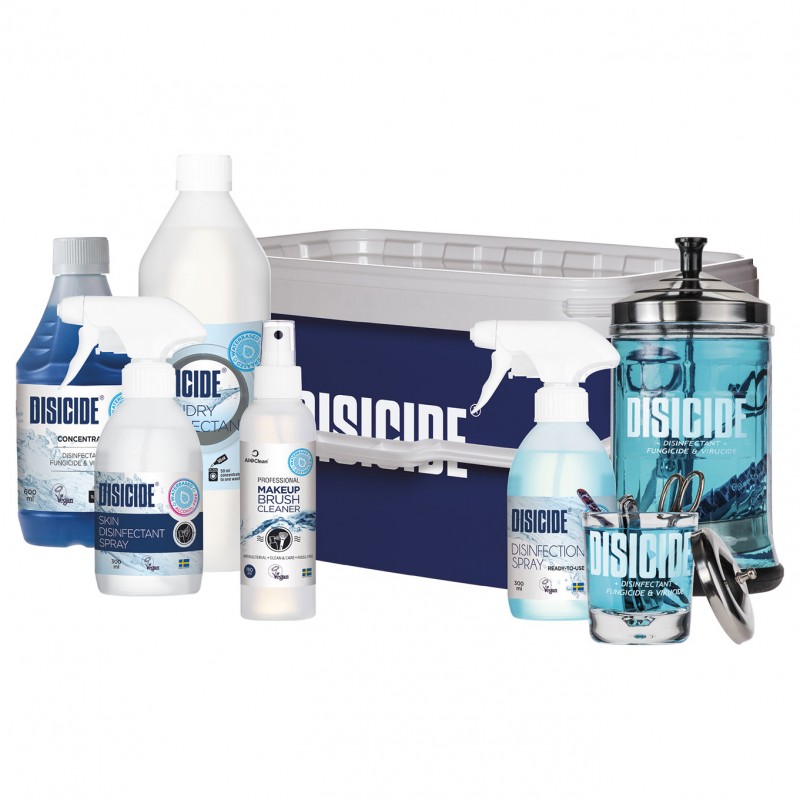  
Disicide Starter Kit Blue
Hospital grade disinfectant starter kit for hair and beauty salons, barbershops, tattoo studios and spas.
Hospital grade disinfection for Barber, Hair & Beauty Salons, Tattoo studios and Spas.
The Blue Starter Kit Contains:
Disicide Medium Glass Jar, 750ml
Disicide Small Glass Jar, 160ml
Disicide Concentrate, 600ml
Disicide Disinfectant Spray, 300ml
Disicide Skin Disinfectant Spray, 300ml
Disicide Laundry, 1000ml
Makeup Brush Cleaner, 150ml
Vegan and environmentally friendly biocidal product that is safe for the user.  Proven effective against bacteria and virus.
Disinfectant, fungicide and virucide.
Water based solvent free product with a mild odour that is easy to use and cost effective.
In January 2020 Disicide® were awarded with the Vegan Certificate and Green Saloon.
This means that all Disicide® products are free of animal ingredients and are never tested on animals.
In addition, the Green Saloon award confirms that all Disicide® products contain no substances that are problematic to humans or the environment.