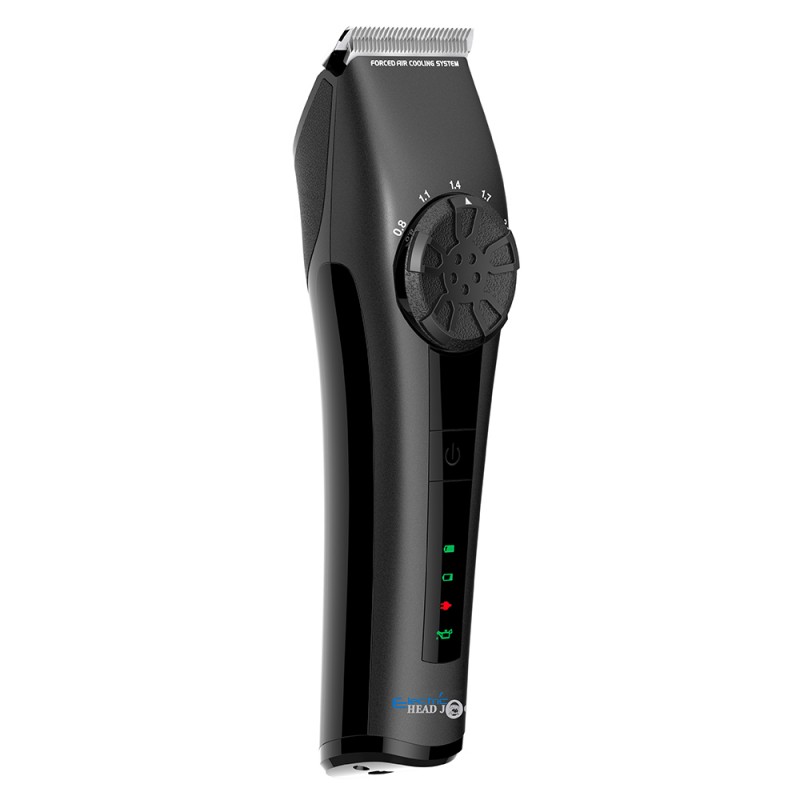  
Electric Head Jog Titanium Pro-Air Clipper Plus
BRAND NEW STYLE! Premium professional Clipper with Titanium Blades and Stay-Cool Technology.
The features and benefits of the Electric Head Jog Titanium Pro-Air Clipper Plus:
Titanium T Blade Design - Titanium plated on both sides.  Titanium blades stay sharp and rust-free for longer, so that every cut will be smooth and precise.  Blades are strong and durable, but still skin friendly.
Patented Stay-Cool Technology - The patented blade cooling system keeps the clipper blades cool to touch for your clients safety.
Intelligent Motor Control System - Keeps the same RPM of up to 6500.  The motor is powerful and offers a long life, lasting 4 times longer than most other brands.
5 Length Settings - The clipper blades feature a 5 stage blade adjustment, in increments of 0.3mm (0.8mm, 1.1mm, 1.4mm, 1.7mm and 2.0mm).
Cordless - Powerful cordless clipper, with a 2.5m cable so can be used corded or cordless.
LED Smart Indicator Light - 3 lights showing remaining battery life and charging reminder.
High Performance Large Capacity Lithium Ion Battery - Lithium Ion battery that can last 3 times longer than traditional batteries.  Fast charging in about 4 hours, allowing up to 7 hours use.
Blade Maintenance Smart Reminder - Reminds the user to clean and oil blades for extended life and cutting performance.
Taper Control combs - Supplied with 8 combs that can provide lengths of 0.8mm to 16mm giving you the freedom to create any style your clients require.
Spare combs and blades available to purchase separately.
Gary Taylor, previous winner of World Barbering Championships and North East Hairdresser of the Year 2012 and 2015 at the British Hairdressing Awards, gave us his thoughts on the brand new range:
"The new Electric Head Jog clipper and trimmer range are fabulous new tools.
The blades move at the perfect speed for any clipper work, superb for short hair/pattern cutting and also a brilliant tool for trimming the ends of anyone with long hair.
A versatile product, with great battery life - I've used them continually on my clients and the blades stay at a cool temperature so you can use them cut after cut after cut!!"
Barcode: 5031291616606