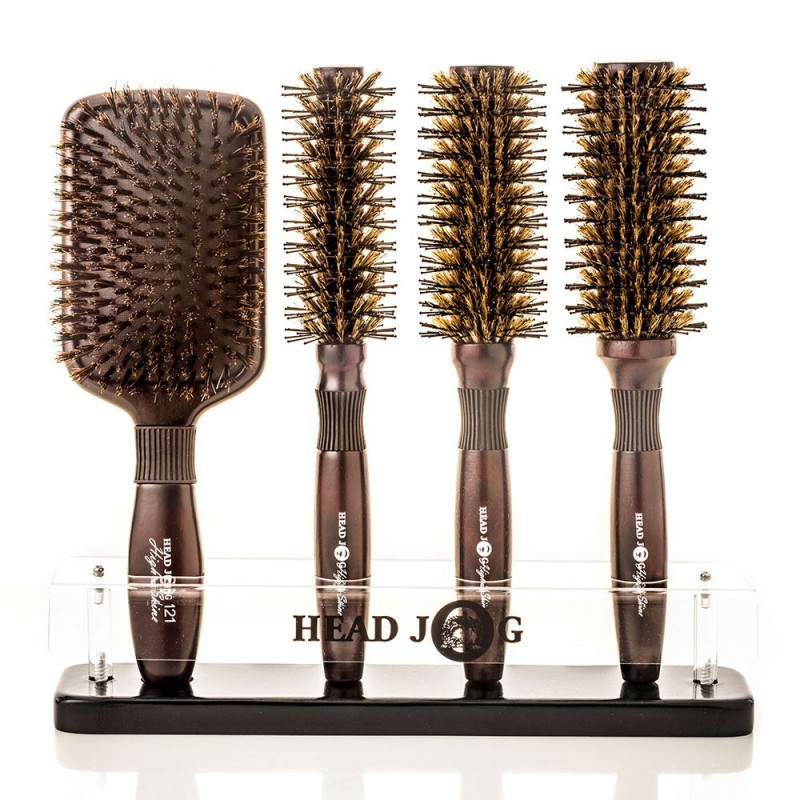  
Head Jog High Shine 12pc Brush Stand Deal
Brush deal of 12 brushes with a stand.
Winner of Hair Awards Super 60 in 2015 & 2017 for 'Best Natural Bristle Brush' - now available in a brush stand deal!
The brush deal consists of 12 brushes and one stand:
3x Head Jog 114 (21mm)
3x Head Jog 115 (27mm)
3x Head Jog 116 (34mm)
3x Head Jog 121 (Paddle)
The range has been uniquely designed to create smooth and shiny hair with the following features:
Boar Bristle - innovatively tufted to a specific angle to the brush head, covering the roots of the vertical nylon monofilaments, reducing snagging and pulling whilst styling. The angled boar bristles also create grip throughout the hair to smooth cuticles and add more shine.
Tourmaline-Infused Nylon Bristles - originated from gemstone, the tourmaline emits ions to eliminate frizz and add shine.
Flamed Tips - each nylon bristle is treated with a high heat flame to melt its sharp end to form a round tip, giving a gentle touch to the scalp. The secured epoxy ball tips also increases comfort when styling.
High heat resistance for professional use.
Radial brushes feature a removable hair sectioning pick.
All brushes also available to purchase separately.