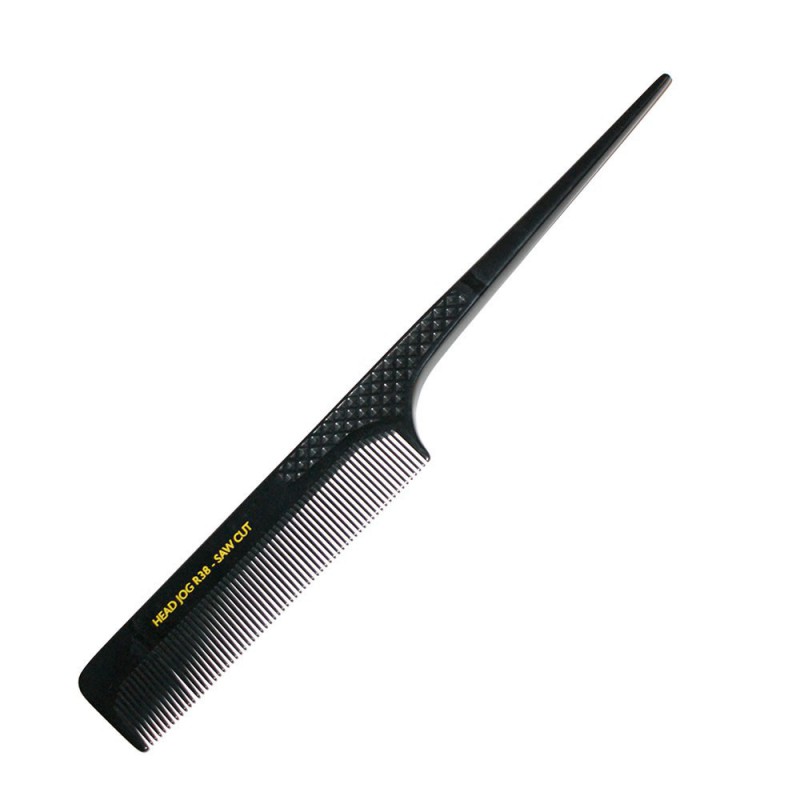  
Head Jog R38
Fine Tail Comb MADE FROM: Ebonite (hard rubber + synthetic rubber). This compound increases the durability and strength.
Combs made from 100% hard rubber tend to be fragile and can break when dropped a few times, whereas Head Jog R combs are much more robust.
Head Jog R combs have smooth rounded teeth which massage the scalp & keeps the hair cuticle smooth making hair strong & healthy. (Ordinary combs have razor sharp teeth. Also the rough edges between the teeth act as razors, damaging the hair cuticle making the scales rough & can therefore cause unhealthy hair with split ends).
How are they made? The compound is placed into the mould and compressed for a fixed period of time. Then it is vulcanized (heat & steam). The profiles of the comb are ready and the teeth are cut. Each tooth is cut individually by hand. After the cutting operation the teeth are polished so that they are rounded.
Available in:
Head Jog R2 Barber Comb
Head Jog R6 Wide Tail Comb
Head Jog R30 Handle Rake
Head Jog R38 Fine Tail Comb.